Our Best Selling 72-hour kit.
AS SEEN ON CNN & TV plus
Voted

#1

by the Wall Street Journal!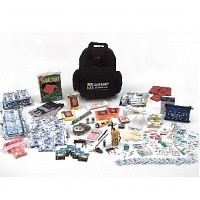 Executive 72-hour Kit - As seen on CNN!
NEWS FLASH--Nitro-Pak's "Executive Kit" Rated #1!
Comparing FIVE leading internet preparedness companies, Nitro-Pak's "Executive 72 Hour Kit" was Voted #1 as the "Best Overall" 72 Hr. Emergency Kit Sold in America by the 'Wall Street Journal' (6/16/2006 edition). Own the Best... Be Prepared -- Order your's NOW!
--------------------------------------------------------------------------------

We developed our Executive 72 Hour Survival Kit to be the best, most portable 72 hour kit we could make yet still made it affordable! Don't let the 'executive' name in the title scare you off thinking it's too expensive. You'll get 'executive' quality and detail at a very attractive price.
Nitro-Pak has been building 72 hour kits for over 18 years now. We've learned a few things along the ways like what's really needed in your kit and what is just fluff. We realized at the offset that QUALITY COMPONENTS were essential. Our designers scouted the competition.
We found that many so call "72 hour kits" were woefully inadequate! Their packs or bags were made so cheaply they wouldn't last 2 days with my 1st grader! Many had surplus items like old lightsticks, woefully lacking in food or water, etc., just to make'm cheap. We knew we could do much better and we did.

"Your slogan, 'Products That Bring Real-Peace-of-Mind & Security' is really true. Your supplies & Executive 72 Hour Kit helped us make it through Hurricane Iniki on Kauai… helping us to safely evacuate… your Solar Dynamo Radio worked great!"

Dr. Jeffery Sue, M.D., Kauai, Hawaii

Hey, like you, I love a great deal just as much as anyone, but I HATE to be taken, you know, it looks good on the outside of the package but inside is nothing like you thought you were buying.
To be truthful (other dealers will not like me telling you this), there is no 'standard' of what is required to make a "72 Hour Kit", so do a little investigation and know what you are really purchasing. Your decision to buy a quality 72 Hour Survival Kit should not be taken lightly.
No matter what your budget is or where you purchase your preparedness supplies and 72 Hour Survival Kits, look closely at what you are getting for your money. Do not just look at the price alone, but at the quality of components you are getting… top quality or much less. Remember, what you are really purchasing is a 'Survival Insurance Policy' to protect you and your loved ones. Put together piece by piece yourself, our Executive 72 hour Survival Kit would cost over $185 to assemble. The saving is a real 20%. Now that's a great deal!
Here are some things to look closely at when shopping for a good quality 72 Hour Survival Kit:

Quality of the Bag:

Most the time the search stops right here. Look closely at the quality of the bag. It should be well constructed, made to take heavy-duty abuse, have easy carrying handles and if a backpack, have padded shoulder straps.
Does it have extra room for you to add an old sweatshirt or light jacket? How about extra room to add a pair of old tennis shoes (in an evacuation you can walk or run faster in tennis shoes than dress shoes or heels). Remember, this bag is going to protect your "survival insurance" supplies and it had better be up to the task. It should be able to endure the punishment of bouncing around in the trunk of your car for years.
First-Aid Kit:

Look closely here. Most kits simply include a ziplock bag with a few bandaids and antiseptic wipes. Better kits will have a much broader selection of first-aid items and also include a comprehensive first-aid book. First-aid kits can range from the $2 types to the $30+ types. Be sure your kit has a wide range of various first-aid supplies.
Food:

Be careful here. Your kit should only have foods specifically made to be non-thirst provoking, provide high calories (for energy), be low in protein (requires less water of digestion), not affected by high heat (think, car trunk in the summer), have a long shelf-life and yet still tastes good.
Lifeboat 'emergency food rations' are ideal for 72 hour kits and meet all these requirements like the food bars made by Datrex or Mainstay. We recommend only the 3600 calorie size bars (1200 calories per day for 3 days). Smaller sizes are woefully inadequate.
Water:

Your kit should include water. Some kits have none. The best way to store water in your kit is using U.S. Coast Guard Approved "Lifeboat" water ration pouches. They have a 5 year shelf-life.
At a minimum you should have 3 to 4 pouches (4 oz each) per day per person (or means to collect and store more). No, that is not a lot of water, but remember, weight is always a factor and you may need to hike with your kit for some distance.
Flashlight & Radio:

Here is often where good quality kits differ dramatically from lesser quality ones. Does your kit come with a quality flashlight and include batteries, or is it the $1 store type? Is there a backup light source such as an instant lightstick or long burning candle? Does it include a good quality am/fm radio? A radio should be included so you can hear the latest news reports and updates.
It is also a good moral booster. Be sure batteries are included and that you rotate them every couple of years (you might even want to add an additional set for added safety). A windup rechargeable solar/dynamo radio would even be even a better choice. (See Executive Upgrade Kit).
Shelter, Heat & Warmth:

Many low cost kits do not include much. Protection from the elements is important. A heavy mil thickness 'tube tent' makes a low cost shelter for 2 people and should be included in your kit (it can also be used as a signaling device).
Your kit should also have several items to cover the basics of Heat & Warmth, too, such as a long burning candle with MATCHES (for light & heat), instant pocket hand warmers and a Space® Blanket for each person. As always, remember quality. Most companies will only use low cost inferior knockoffs.
Is the Kit Made for 1 or 2 People?

Most preparedness experts recommend having one or multiple kits that protect 2 people each. The reason for that is when disaster strikes, you'll be preparedness for both you and someone else (child, co-worker, etc).
We take pride in every kit we make. Our Executive 72 Hour Survival Kit has been designed to provide maximum protection for you and your loved one when disaster strikes. All the survival basics are covered, including food, water, shelter, first-aid, light, heat, sanitation, communication, and more.
Comes packed in a premium quality, heavy-duty nylon backpack so that everything is easily accessible when you need it and has plenty of extra room inside for a light jacket and spare set of comfortable walking shoes.
Over the years we have kept improving this kit. It gets better & better. Our customers have told us that they selected our Executive 72 Hour Survival Kit for its compact size (easily fits in any car or truck), ease of carrying, quality of the components, and very attractive price.
Weight was also a major consideration for us when developing this deluxe kit. Not so much for guys, but for women and teen age children. At under 20 lbs., this kit is easily meets this standard. Why not order one for home and work! Weight: 20 lbs.
Here are some highlights of what you'll get in this kit:
Premium Quality Water Resistant Nylon Backpack
with padded Shoulder Straps
Heavy-Duty Tube Tent Shelter
Deluxe Knucklemender™ 60 item First-Aid Kit

5 Year Shelf-Life Cookie Flavored Food Rations
5 Year U.S. Coast Guard Water Rations
Emergency Space® Blankets
36 Hour Light/Heat Candle

Protective Leather Gloves & Dust Masks
Quality AM/FM Radio
CONTENTS INCLUDES:

Warmth & Shelter

2 - Compact Emergency USA Made Space® Blankets
1 - Deluxe Heavy-Duty Tube Tent
2 - Emergency Rain/Wind Ponchos
Cooking, Heating, & Light
1 - 36 hr. Emergency Candle

1 - Industrial "AA" Size Flashlight with Batteries
2 - Pair of Hand/Pocket Warmer Heat-Paks
1 - 12 hr. Instant Lightstick
1 - Box of Waterproof Matches (45 matches)

Water & Hygiene Items

24 - Purified Drinking Water Pouches (4.2 ounces each)
18 - Wet-Wipe Packets
2 - Compact Sanitation/Toilet Toilet Rolls
2 - Disposable Sanitation Bags


First-Aid




1 - 60 Item Knuckle Mender II™ First Aid Kit w/ Instruction Book


Food Items




2 - 3600 Calorie Cookie Tasting Ration Bars
1 - Bag of Survival Candy
6 - E-mer'gen-C® Energy Drink Packets

Miscellaneous

1 - Premium Heavy Duty Nylon Backpack
1 - 15-Function Swiss Army Style Pocket Knife
1 - Deluxe AM/FM Radio Flashlight w/ Batteries
1 - Emergency Survival Whistle

1 - 50' Nylon Cord
1 - Pair of Leather Gloves (for digging through or clearing debris)
or hand warming in cold weather
1 - Writing Pad, Pencil, and Ink Pen

1 - Deck of Playing Cards (time occupier for kids & adult at shelter or
if stuck at work or school. Helps time pass much faster).

2 - N95 Hospital Grade Dust Masks
PLEASE NOTE COLOR CHANGE: The color of the bag has changed from the picture. It has now been ugraded to a highly visable bright Florescent Orange or Royal Blue with Black trim to make finding you bag faster in an emergency.
PLEASE NOTE--Some of the items have slightly changed from the photo.

CLICK HERE NOW TO ORDER Your Executive 72-hour Kit - As seen on CNN!
You will be redirected to the Nitro-Pak Website