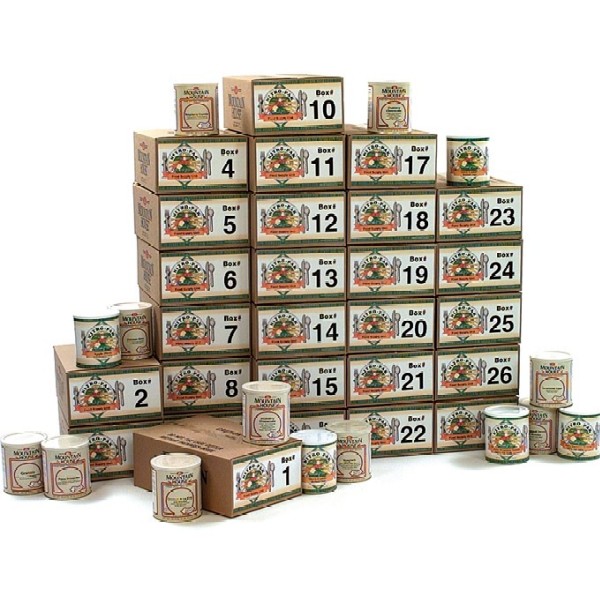 Here is a list of what you are apt to find in MRE menus:
Main course -- recipes like beef steak, chicken & noodles, turkey breast, meatloaf, chicken & noodles, turkey tetrazinni, Veggie Burger, Clam Chowder, Egg Omlette, Western Beans etc.

Side dish like fruit, rice, soup or potatoes

Some type of dessert, snack food, or candy

Crackers or bread, with a spread of cheese , peanut butter , or jelly

Powdered drink mix: fruit flavored drink, cocoa, coffee or tea , sport drink , or dairy shake.

Utensils (usually just a plastic spoon )

Flameless ration heater (FRH)

Accessory pack:

Xylitol chewing gum

Water-resistant matches

Napkin / toilet paper

Moist towelette

Seasonings, including salt , pepper , sugar , creamer , and/or Tabasco sauce

Many items are fortified with nutrients
Breakfast, lunch, and dinner menus are all available.
One man said that you can stand the mre's flavor, only if you heat them up, and add your own seasoning or sauce to them. Each mre meal, said he, requires a different sauce or seasoning, from the others. He recommends that you eat none of them while cold.

Thoughts For The Experienced Military Man
Here I want to give to you some considerations, if you wish to be thoughtful in your choice of rations or survival foods, or emergency food.
Thought 1 -- Some needed vitamins and other nutrients are destroyed by cooking, or leached by food processing ways.
Thought 2 -- Military folks, such as yourself, have til now shown a tendency to be clueless about nutrition. They feel that as long as they are able to work, they are o.k.. However, with a lack of variety, and a lack of raw vegetables and fruits, organs can be degenerating, corroding, as it were, and you might not know it until it has reached the emergency stage.
Thought 3 -- DoD says it is a must, when you are thriving on MRE's, to have fresh meals or A-rations whenever possible. That means if it is possible to stash the MRE for another day, do it.
Order Your Own Supply Of MRE Meals-Ready-To-Eat by Clickin Here!