DEFINITIONS: "PARAMEDICS" VS "EMERGENCY MEDICAL TECHNICIANS"
In some lands, a "paramedic" and an "emergency medical technician" are the same thing.
In USA, the EMT has been usually less trained than has been a paramedic. Often paramedics were erst certified EMT's, before they earned their paramedic certifications.
OR a paramedic is categorized as a highest level of EMT's.
Both of them are under the broad stripe of "medical assistant".
"Medical assisant" is a phrase that does not have a definite meaning. In the navy of the queen of England, the phrase means roughly the same as means the phrase "hospital corpsman" in that of the USA.
The phrase "medical assistant" could also show anyone working in the office of any physician or hospital, in administration or in a clinic.
EMT CLASSES & PARAMEDIC EDUCATION FOR
EMERGENCY PREPAREDNESS
For disaster survival, I recommend that you form a group of families, to begin with. I recommend you practice drills, going through the motions of first aid procedures at least once a month, or twice, or once a week.
If you want to be ready to do first aid in, or after, a disaster emergency, the top course for you would be paramedic.
At least one member of your group should volunteer to learn paramedic skills, and teach them to the rest of the group. It would be best if 2 or 3 other members, also went through EMT schools, and became certified emergency medical technicians.
They will then be able to teach first aid to the rest of the group members. Everyon should know first aid, and the more members, who attend an EMT class, the better.
In most states of the USA, you must get EMT certification before any certificate, to do paramedic tasks, will be available to you.
Part of the recommended training for paramedic, after you have gotten your certificate from an EMT school, is to work as an emergency medical technician for a year, either as a volunteer, or as a paid EMS worker.
If you have already your career, and you want to become an expert at first aid, but not professional, then volunteer at your local fire and rescue department, if they will allow you.
If you are near to a wilderness, then there may be search-and-rescue volunteerism, or a civil air patrol who may take EMT's as volunteers.
DISASTER PREPAREDNESS - PIONEERING THE WHOLISTIC EMT AND PARAMEDIC WAYS
Here is what I recommend - while you are in your course, and after you get your certification, meet with wholistic healers, alternative medicine specialists, herbalists, and other alternative healers.
Explain to them what was taught to you in your classes. Ask them if they have a better alternative, better than what is being taugh to you. Write down their recommendations, and make a notebook of them.
If you wish, you can also publish the notebook, and make it available to other survival groups. That is what I recommend.
PARAMEDIC COURSE REQUIREMENTS AND EMT CERTIFICATIONS FOR CAREER, OR FOR FIRE AND RESCUE VOLUNTEERS
To be certified as a paramedic, it is foreneeded to be gotten a certification of emergency medical technician, designated EMT-B for basic, or, in California EMT-1.
For the basic EMT certificate, a high school diploma is usually foreneeded.
Here are some of the emergency skills that an EMT-Basic must learn:
use and maintenance of usual emergency gear:
Oft, internship is given, working with an ambulance, or in an emergency room of a hospital.
Certification follows a written and practical exam done by an agency of a state, certifying agency or else by the NREMT.
You will be legal to work with an ambulance. Some states demand extra driving licensure for you to drive an ambulance. DMV or MVA will tell you.
To find out where to get an EMT-B or EMT-1 certificate, ask at the nearest fire and rescue company, or ambulance company, or hospital, or community college.
There are also EMT-Intermediate certificates available, below the paramedic level. Each state has a different standard for this level.
The nationally defined levels (EMT-Intermediate 1985 and EMT-Intermediate 1999) typically require 30 to 350 hours of training based on scope of practice.
Some of the skills learned are:
use of advanced airway devices
For the highest level of education, the EMT-paramedic certificate, it will help you to learn better if you work for 1 year as an EMT, before you take your paramedic course. Some things need to be experienced, before they can "sink in" rightly.
Within the USA, from state to state, your paramedic course will differ.
At least you will have to learn:
complete anatomy & physiology,

electrocardiography (ECG),
EARNINS OF EMT'S AND PARAMEDICS, 2010:
Median $33,020 year, $15.88 per hour.

Middle 50 percent from $11.13 to $18.28

Lowest 10 percent less than $19,360 year, $9.31 per hour.

Highest 10 percent earned more than $51,460 year, $24.74 per hour.
Median in the industries employin the biggest numbers of EMTs and paramedics:
General medical and surgical hospitals $23,250, 2006

Ambulance services $20,350, 2006
The lowest wages are in the farmin whereabouts, but might still give a higher quality of life, compared to the cost of livin; and private ambulance companies.
The highest wages are in crowded whereabouts, but might give a lower quality of lif, compared to the cost of livin, and the quality of the habitat. There the mean wage is above $34.00 each hour.
In the farmin whereabouts, the demand/supply ration seems to be lower, which seems to influence the size of the wages.
5 States Payin The Most 2010
Alaska $46,630

Hawaii $47,380

Maryland $41,530

Oregon $43,220
WHO HIRES?
Police

Fire/Rescue

Private Ambulance Companies

Doctors' Offices

Outpatient Hubs

Jr & Community Colleges

Colleges

Universities

Waste Treatment

Management

Local Government
WHOM TO SAVE, AND WHOM NOT TO SAVE
Suppose you know a patient, and you know that they are in the habit, of obstructing the connection, between the Lord and any other person. Jesus said that, if you save such a person, then you would be doing them more harm than good.
Also, if any patient would go out and do anything that the Bible says they should be killed for, then you would be saving our land from the punishments of Deuteronomy 28, and elsewhere in the prophesies, if you let them die.
The punishments, that you would be saving our land from, would be kidnapping of children, selling them into slavery, sodomizing them to death in satanic rituals and for snuff films, tornados, floods, hurricane damage, aids, cancer, environmental contamination of air, food, and water -- just to name a few.
Don't be tricked into making any vow or oath. It is illegal to swear any oath, it is disobedient to Jesus Christ. Besides that, the contents of the oath may be in contradiction to any of the scores and scores of commandments in the Bible.
FURTHER READIN!
When you click on the image, on your right, you will be able to see, about gettin your own copy!
A Paramedic's Story: Life, Death, and Everything in Between (Paperback)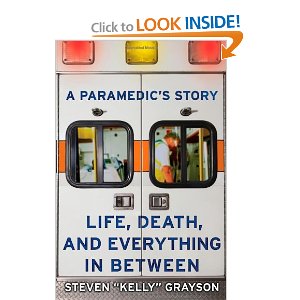 Reader's Review:
"As a 911 EMT I certainly related to many of the stories in this book. It's all here... laughter, tears, the good calls the bad calls anyone in public safety will relate

to the stories Kelly Grayson tells with humor, wit, honesty and style because we have lived them. But what about the rest of the world?

"Why would someone outside of "the job" want to read this? Because you're in here too.

You're the patients, the families, the friends and the very groundin factor in the lives of first responders, "Ambulance Drivers", EMT's and Paramedics et alia.

Click below , and you will learn about

gettin your own copy of

Life, Death, and Everything in Between!"

"It's a great readin, and I enjoyed it immensely, because it's not just a collection of war stories; it's about the human condition and all of the emotions and trials that combine to make common experience an uncommon thin.

"See the world through Kelly's rose colored emergency lights, see EMS for what it really is and see who we (and you) really are."

Click below , and you will learn about

gettin your own copy of

Life, Death, and Everything in Between!"